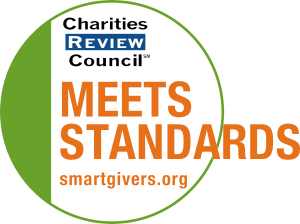 Mission Statement
Lutheran Social Service of Minnesota expresses the love of Christ for all people through service that inspires hope, changes lives, and builds community.
Impact and Programs
Accomplishments
Adoption • 3,191 clients were served through LSS Adoption services. 100% of our adoptive families reported they felt well prepared to parent a child through adoption. • 224 children joined families to call their own through adoption. • 70 children living in foster care were placed in permanent adoptive families. • 482 individuals attended our adoption education classes as they began their journey to adopt children out of foster care. • 250 children who have special needs, are older or are members of sibling groups, were advocated for internationally. Camp Knutson • 1,175 of campers (87% of those we served) strongly agreed (5-point scale) that they achieved 2nd level learning at camp. 2nd level learning is defined as learning of life or problem-solving skills above and beyond recreational skills obtained at camp. Camp Noah • Camp Noah is a week-long day camp in which trained staff and volunteers use curriculum designed specifically to build resiliency in and restore hope to disaster-impacted children. In FY15 23 camps were held in 8 different states. • 848 campers (98% of youth who attended Camp Noah) reported they learned a minimum of two new resiliency skills after attending a Camp Noah event. Behavioral Health Services (office-based and family-based combined) • 502 family-based clients (54% of those served) reported a significant reduction in their mental health symptoms as a direct result of LSS counseling. • 1,319 office-based clients (69% of those served) were extremely satisfied (5-point scale) with the counseling services they received. • 118 therapeutic foster care clients (64% of those served) achieved reunification or permanency subsequent to Treatment Foster Care. Employment Services • 47% of employment cases closed was due to the client moving to unsubsidized employment. Financial Services • $18,522,289 returned to credit grantors on behalf of LSS Financial Counseling debt management clients. Metro Housing Services • 90% of the 886 families with whom we worked maintained safe and stable housing for one year. Refugee Services • 173 refugees settled in the Metro area and St. Cloud have been placed in jobs during the past year, exceeding our goal by 72. Youth Services • 88% of youth participating in our group skills and support programs reduced their risk behaviors by demonstrating low-risk behaviors and new knowledge required. • 78% of youth left shelters to find a safe alternative to homelessness. • 85% of youth exited our transitional living services to find safe housing elsewhere. Caregiver Support and Respite Services • 21% of our clients increased the number of respite care hours utilized by families to reduce caregiver burden. 343 individuals were served in FY15. Guardianship Options • 852 of the clients (86% of those we served) under LSS Guardianship reported service to be least restrictive in the areas of abode, rights and decision making, personal supports and services. Senior Nutrition • 21,493 clients were served (34 of whom are centurions!), helping keep seniors healthy, active and living independently. In our customer satisfaction reports, a majority of our seniors have experienced a positive health benefit from participating in our meal program. • 542,396 home delivered meals were served (2,086 home-delivered meals per day). Foster Grandparents • 89% of the 3,825 students served by Foster Grandparents made improvement in teacher-identified literacy and/or math goals, as measured by local school testing protocols. Senior Companions • 2,660 older adults (92% of those we served) reported feeling increased social support and less social isolation since being connected with a LSS Senior Companion. Partners in Community Supports (PICS) • 78% of PICS' new clients reported the tools and resources we provided simplified their ability to self-direct their services and remain independent in the community. Personal Support Services (PSS) • 744 adults and children with disabilities and other related conditions were served based on individual needs and choices. • "My Life, My Choices" continues to be a significant focus for LSS in supporting individuals with disabilities to live the life they desire. Innovative options include increasing host home opportunities, launching Employment Services for Persons with Disabilities, and serving with Assistive Technology. There are a number of people who have a "voice" for the first time in their lives because of assistive technology.
Current Goals
Operational objectives: 1) Services for People with Disabilities and the Altair ACO will innovate in supporting people with disabilities living and working in integrated settings in the community by: - Offering 150 new people at LSS person-centered planning, self-directed services, host homes, competitive work, assistive technology, and/or healthcare coordination - Enrolling at least 130 LSS participants in services offered through the Altair ACO. (The total Altair goal is 425.) 2) While supporting the current model of services for people with disabilities by: - Offering the community a new design of intensive services for people who will need them. - Participating in a campaign to secure at least another 3% rate increase in waivered services. - Implementing a staff stabilization plan that reduces PSS turnover from 43% to 40% and reduces the position vacancy rate from 16% to 14%. 3) Older Adult Services will implement the Sr. Companions Demonstration Project to integrate with healthcare models, producing the nation's first measurable health outcomes for 20 older adults supported by Sr. Companions. 4) Family Services will: Break ground and begin the building of the Center for Changing Lives for Youth in Duluth, and have 5-10 youth living in community host homes by the end of the year. Focus the energy of our Behavioral Health team on Therapeutic Foster Care, define and become a leader in Minnesota in this service with a sustainable business model, coordinating efforts with our Adoption Services. Become the recognized leader in Minnesota in student loan counseling and increase revenue for this service by $350,000. 5) Development will complete the Duluth capital campaign; raise another $500K in cash and $2 million in expectancies toward the endowment campaign; and achieve the annual giving targets spelled out in the FY2016 budget. 6) LSS will hardwire into the LSS employee experience: Front Line Management Training, Alive Workplace, Seven Fs @ Work, and a digital workplace called One.LSS.MN. The Executive Ops Team will develop an action plan for any service with high turnover. 7) We will all achieve the FY2016 budget and position LSS to achieve the rest of the Five-Year Plan. Strategic objectives: - We will "Spread Goodness" in communities impacted by a significant influx of refugees by supporting and encouraging community welcoming efforts. - We will re-tool our Anti-Racism work around the theme of racial equity, and prepare a meaningful public position for LSS. - We will develop new relationships with the Lutheran Church in Minnesota by offering resources to the church in support of Great Neighbor efforts; inviting congregations to sponsor host homes, adoptive homes, and foster homes; and engaging church members in giving, serving, and advocating. - We will assume a leadership role in unleashing the potential of the LSA network and better connecting it with the national Lutheran churches, especially as the LSA Annual Conference comes to Minnesota in April, 2016. - Complete a comprehensive system for talent development and succession at LSS, and complete Individual Development Plans for every high-potential Sr. Director and above.
Community or Constituency Served
LSS is a statewide organization. Our 2,300 staff serve 1 in 65 people in Minnesota. Our services are organized around children, youth and families; people with disabilities; and older adults. The services of LSS are available to all people regardless of race, color creed, religion, national origin, sex, sexual orientation, disability or age.
Geographic Area Served
We serve in each of Minnesota's 87 counties and in more than 300 communities.