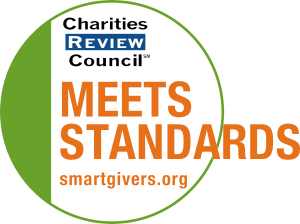 Mission Statement
Building donor and nonprofit relationships for strong, vibrant, and just communities.
Impact and Programs
Accomplishments
In 2016, we served more than 565 nonprofits via our online capacity building tool (the Accountability Wizard®), providing more than 1,200 hours of customized technical assistance along the way. We not only met our goal of engaging 21 new nonprofits in the Accountability Wizard® review process, but exceeded it, engaging 45 new nonprofits! We sent nearly 7,000 constituents our semiannual Smart Giver Newsletter, and responded to more than 1,400 donor support calls—each call with the potential to translate into a gift to a strong nonprofit. We also continued to provide extensive web-based resources with the development and launch of our Diversity, Equity and Inclusion toolkit, an action-oriented assessment for nonprofits who wish to better serve the populations they represent.
Current Goals
The Council's 2014–2017 strategic goals are to elevate impactful and inclusive giving practices, to advance donor and nonprofit capacity for mission engagement, and to increase the number of donors and nonprofits engaged in deep and successful relationships. To achieve these goals, we have identified several measures of our impact related to these goals. These objectives include increasing the unique page views of the list of Meets Standards® nonprofits on our website by 25%; enrolling a total of 161 nonprofits in the Accountability Wizard®, including at least 50 that have never been reviewed before; and launching our Diversity, Equity & Inclusion Toolkit and enrolling at least 15 nonprofits by the end of the year.
Community or Constituency Served
We help nonprofit leaders build and communicate their organizations' internal strengths so they can exceed their goals. With a combination of cloud-based technical assistance, non-judgmental support, and robust resources, we provide a risk-free environment where organizations can undertake our innovative Accountability Wizard® review process to align their internal practices with widely-accepted standards of nonprofit strength and accountability, all while meeting each nonprofit exactly where they are. We know that all donors are investors. We collaborate with both donors and grantmakers to ensure that every precious dollar goes to strong, ethical, and trustworthy organizations. We work hard to support individual donors, providing resources to educate and inform them about the many opportunities of investing in nonprofits. We also work with grantmakers to ensure that they are responsive and responsible grantee partners, and to ensure that their grantees create the most impact they can.
Geographic Area Served
Charities Review Council strengthens nonprofits and informs donors across the country.