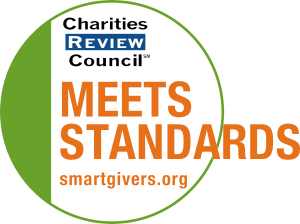 Mission Statement
World Without Genocide works to protect innocent people from prejudice and discrimination; to prevent genocides and other atrocities; to support efforts to prosecute perpetrators of genocides and hate; and to remember those whose lives and cultures have been affected by violence.
Impact and Programs
Accomplishments
In 2019, World reached over 3,000 people (lawyers, law students, human rights advocates, and the general public) through public education events including institutes, film screenings, exhibits, and talks. We taught a new course at Mitchell Hamline School of Law, "Human Rights, Civic Engagement, and the Legislative Process" team-taught with Minnesota Senator Sandy Pappas. The Benjamin B.Ferencz Fellowships in Human Rights and Law received the Minnesota Ethical Leadership Award. We received this award in 2014 for our Summer Institutes for High School and College Students. We are the only organization in the state to receive this important designation twice, for two different programs that emphasize education and human rights advocacy. Programming took place in 34 venues in the states of Minnesota, Washington, New York, Florida, and in Washington, D.C. Our educational materials are used in schools and human rights programming throughout the country. Two documentary films made in partnership with Twin Cities Public Television (TPT), "Genocide Again: Darfur" in 2008 and "Children of Genocide: Five Who Survived" in 2010 (nominated for a regional Emmy award) were shown multiple times on all TPT-affiliated stations, reaching an estimated 50,000 viewers. Nearly 20,000 people were reached by social media sites monthly, 3,000 people received bi-weekly email updates, and approximately 30,000 people viewed World's website monthly. World led successful passage of resolutions of support for CEDAW, the UN Convention on the Elimination of Discrimination Against Women, in the city of Duluth (our sixth Minnesota city to date). We introduced a conflict – free minerals bill through the Minnesota legislature and a bill on the prevention of child marriage in Minnesota, which passed unanimously on the floor of the House of Representatives.
Current Goals
1. To integrate Holocaust-related education into our programs in 2020, in recognition of the 75th anniversary of the end of World War II and to address increasing lack of knowledge about the Holocaust. 2. To address conflict minerals awareness and purchasing through national procurement programs led by Minnesota. 3. To expand current institutes for high school and college students to include more youth from throughout the entire United States and more youth from historically under-represented groups; 4. To pass resolutions of support for CEDAW, the UN Convention on the Elimination of Discrimination Against Women, in at least three more Minnesota cities; 5. To support a bill to eliminate child marriage in Minnesota; 6. To increase awareness about and support for the International Criminal Court; 7. To support local initiatives to address climate change; 8. To address the current conflicts in Myanmar, Syria, Yemen, China, and other locations through educational events and policy support.
Community or Constituency Served
World Without Genocide serves high school, college, graduate, and law students; educators and academics; lawyers, police officers, and other professionals in the criminal justice community; refugees and immigrants; and members of the faith, human rights, educational, and civic communities, in addition to the general public.
Geographic Area Served
World Without Genocide is located in St. Paul, Minnesota. Most of our direct programming through courses, exhibits, workshops, etc. occurs in the Upper Midwest but we have a national reach through lectures and presentations at conferences and special events and through use of our educational materials, exhibits, and documentary films. Our advocacy and policy initiatives address local, state, national, and international levels, including supporting work for the International Criminal Court and advocacy for critical United Nations resolutions and conventions.