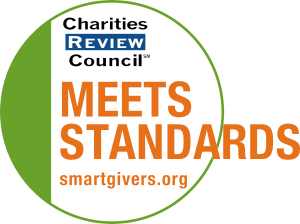 Mission Statement
World Without Genocide works to protect innocent people around the world; prevent genocide by combating racism and prejudice; advocate for the prosecution of perpetrators; and remember those whose lives and cultures have been destroyed by violence.
Impact and Programs
Accomplishments
In 2019-2020, World reached over 3,000 people ( lawyers, law students, high school and college students, human rights advocates, and the general public) through public education events including institutes, film screenings, exhibits, talks, and Zoom and social media. We continue to develop and teach courses at Mitchell Hamline School of Law through in-person classes and courses on electronic media. The Benjamin B. Ferencz Fellowships in Human Rights and Law received the Minnesota Ethical Leadership Award. We received this award in 2014 for our Summer Institutes for High School and College Students. We are the only organization in the state to receive this important designation twice, for two different programs that emphasize education and human rights advocacy. We offer Continuing Education programs that are required for lawyers, nurses, social workers and classroom teachers to maintain professional license requirements. Students who took part in our Summer Institute for High School and College Students have gone on to advocate for human rights in their local communities and started organizations in their schools. Our website provides toolkits with materials for teachers and others when advocating for human rights.
Current Goals
We continue to provide educational programs and courses on human rights for high school and college students, law students, teachers, lawyers, nurses, social workers and the general public. We foster relationships with faith, social justice, human rights, and civic organizations extending our mission locally, regionally, and nationally. We offer opportunities for fellowships, internships, independent study, and certificates in genocide studies. We guide student involvement in study trips, legislative advocacy, and attendance at the Assembly of States Parties of the International Criminal Court in the Hague, Netherlands and at the United Nations in New York.
Community or Constituency Served
World Without Genocide serves high school, college, graduate, and law students; educators and academics, lawyers, police officers, and other professionals in the criminal justice community; refugees and immigrants and members of the faith, human rights, educational, and civic communities, in addition to the general public.
Geographic Area Served
World Without Genocide is located in St. Paul, Minnesota. Most of our direct programming through courses, exhibits, workshops, etc. occurs in the Upper Midwest but we have a national reach through lectures and presentations at conferences and special events and through use of our educational materials, exhibits, and documentary films. In addition, many of our programs are available to an even wider audience via Zoom and social media. Our advocacy and policy initiatives address local, state, national, and international levels, including supporting work for the International Criminal Court and advocacy for critical United Nations resolutions and conventions.