TUESDAY, MAY 9TH, 2017
Machine Shop, Minneapolis, MN
---
Agenda
8:00 am – Registration & Networking
Join us bright and early for a fun and engaging, cross-sector networking event, with yummy treats provided by Eat for Equity.
9:00 am – Program Begins (Keynote & Panel Discussion)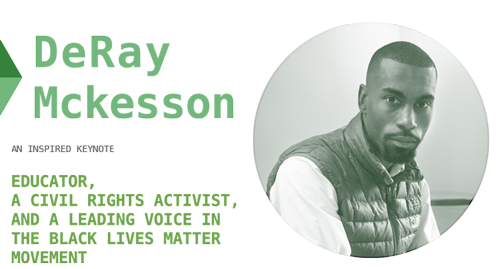 With more than a half-million Twitter followers, Mckesson is widely recognized and respected for "telling the truth, in public." In April 2015, Mckesson and fellow activists Johnetta Elzie, Samuel Sinyangwe, and Brittany Packnett launched Mapping Police Violence, which collected data on people killed by police during 2014. In August 2015, the same group launched Campaign Zero, a ten-point policy plan for police reform. Mckesson and Elize were awarded the Howard Zinn Freedom to Write Award in 2015 for their activism. In 2015, Mckesson was named one of the World's Greatest Leaders by Fortune Magazine and one of the 30 Most Influential People On The Internet by TIME Magazine in 2016. Mckesson is currently the interim Chief Human Capital Officer for Baltimore City Public Schools and a Fellow at the University of Chicago Institute of Politics. He is a 2007 graduate of Bowdoin College and received an honorary doctorate earlier this year from The New School in New York City.
Intimate Panel Discussion Moderated by Anita Patel

Anita Patel
As Leadership Programs Director at the Bush Foundation, Patel works with a wonderful team to equip, inspire, and connect leaders in order to strengthen our region. She brings a significant record of accomplishments to the Foundation, including ten years of developing a wide-range of leadership and inclusion programs as the vice president for racial justice and public policy at the YWCA of Minneapolis. In 2011, she received the Hubert H. Humphrey Public Leadership Award, presented by the Humphrey School of Public Affairs at the University of Minnesota. Patel was named a Top Six Business Leader Under 30 by Minnesota Business Magazine and a Top Ten Outstanding Young Minnesotan by the Minnesota Jaycees.
Panelists
Magui Rubalcava Shulman
Founder and President, Borealis Philanthropy
Magui is passionate about the role of intermediaries in helping grantmakers be more effective. She has worked in local and national philanthropy almost 25 years. Most recently, Magui led the Four Freedoms Fund where she raised over $90 million in 8 years for immigration reform funding and policy advocacy in the United States. She previously also helped launch the Funders Collaborative for Strong Latino Communities, where she exceeded the collaborative's fundraising goal of $16.5 million in just three and half years.
Jonathan Palmer
Executive Director, Hallie Q. Brown Community Center
Jonathan Palmer is the sixth Executive Director for Hallie Q. Brown Community Center, Inc., an African American, nonprofit social service agency open to all with a primary focus on the Summit University neighborhood of Saint Paul, Minnesota and the Twin Cities metro area. The organization was founded in 1929, coming out of the settlement house movement, and today operates as a multi-service hub center providing basic needs and community services. He is an avid historian and a Fellow of the Society of Antiquaries of Scotland and gives presentations and lectures on African, African American and Scottish history and culture as well as being the genealogist for his own family. He lives in North Minneapolis with his wife Emily and younger daughter, Siobhan, and their cats, Hank and Lizzie.
Kris Kewitsch
Executive Director, Charities Review Council
Kris is the Executive Director of Charities Review Council, helping to ensure the Council delivers on its mission to be an independent resource so people are empowered to make informed and thoughtful giving decisions so they can be more effective in helping charities advance their important work. Prior to joining the Council, Kris worked in corporate philanthropy with Target ¬Corporation, U.S. Bank, and Piper Jaffray, directing resources—both human and financial—to nonprofits across the country.
10:30 am – Table Discussions
A chance for you (and your table) to reflect on the keynote/panel discussion.
11:30 am – FORUM 2017 Ends
12:00 pm – Diversity, Equity & Inclusion Workshop (additional registration option)
Facilitated by Kate Khaled, Founder & Managing Director, Imagine Deliver.
Tip your inspiration from FORUM 2017: Forging Trust into immediate action. Directly following the FORUM, we are offering an additional one hour, hand-on workshop that will give you an inside look at Charities Review Council's new Diversity, Equity and Inclusion (DEI) Toolkit, designed by and for nonprofits, philanthropic institutions, coalitions and municipalities.
With the DEI Toolkit, your organization can access an affordable and private assessment to start making your organization more welcoming, strong, and trustworthy. Join us in being among the very first to know about this groundbreaking new program.
* To register for this workshop, select the ticket option that includes the DEI Workshop. This ticket option includes lunch.